Small gifts keep the friendship alive (so they say) or creates trust. For us, gifts mean virtual attention, compliment or hidden messages. Or they are small surprises from a secret admirer?
You can be surprised. Or surprise your favorite Kaufmich member.

To send a gift to somehow, you have to first acquire our currency,  Kaufmich dollars. This is how you pay for gifts. You can send them anonymously or under your user name and they show up in the profile of the gifted. Who wouldn't be happy about this? 
Instructions for sending gifts:
visit the profile of your choice 
there you will find the gift box on the left hand side 
click on "make a gift" 
select a gift 
write a nice message 
decide, if you would like to stay anonymous or not 
send – done!
The gifted person can then see his/her gift under setting - profile - manage gifts, read the message and possibly reply, but can also delete gifts, if they aren't supposed to be seen on the profile anymore.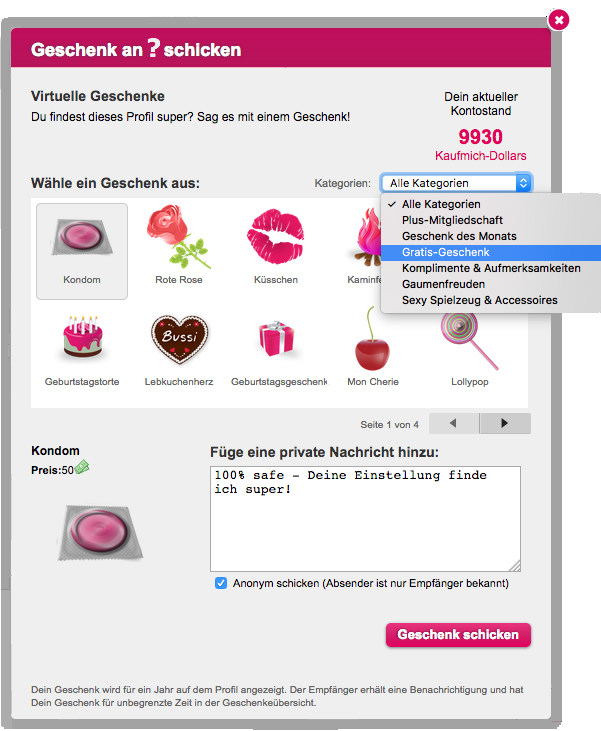 What's the deal with the free gift? 
Every month there is a special virtual gift, which we offer for the small price of 50 Kaufmich-Dollars anbieten. On the 15th of every month we make this gift available free of charge to give away - Am 15. jeden Monats stellen wir dieses Geschenk sogar kostenlos zum Weiterverschenken zur Verfügung - So you can spend all day making your favourite members happy with a small gift and nice words!

On that day you can find the free gift under the category "free gift" (see above).
Please note, that free gifts are not shown on the profiles permanently, but only a limited time (for 30 days).