You have decided to delete your profile and leave kaufmich.com? We are very sorry about that and would be happy if you tell us the reason for deletion so that we can continue to progress (if your decision is based on Kaufmich)!
This is how the deletion of your profile works:
In your settings you will find the menu point pause or delete.
You will be re-directed to an information page, which informs you about the details of the deletion. You can choose between german and english language and will be asked to give feedback about the reason for the deletion. Of course you can also just enter "other".
You have to confirm your password again and then you can delete your profile.
As soon as you confirm by clicking the button, you will receive an e-mail to your registered e-mail address, in which you will find your confirmation link for the final deletion of your profile.
It is important that you confirm this within 24 hours with a click, so that your profile and all your data will be deleted.
Alternatively, you also have the option to "deactivate" or "pause" your profile. When you deactivate your profile, it disappears from Kaufmich and from the search, but it is not completely deleted. Pause means that you are still on Kaufmich, but other users can see via your profile that you are taking a short break.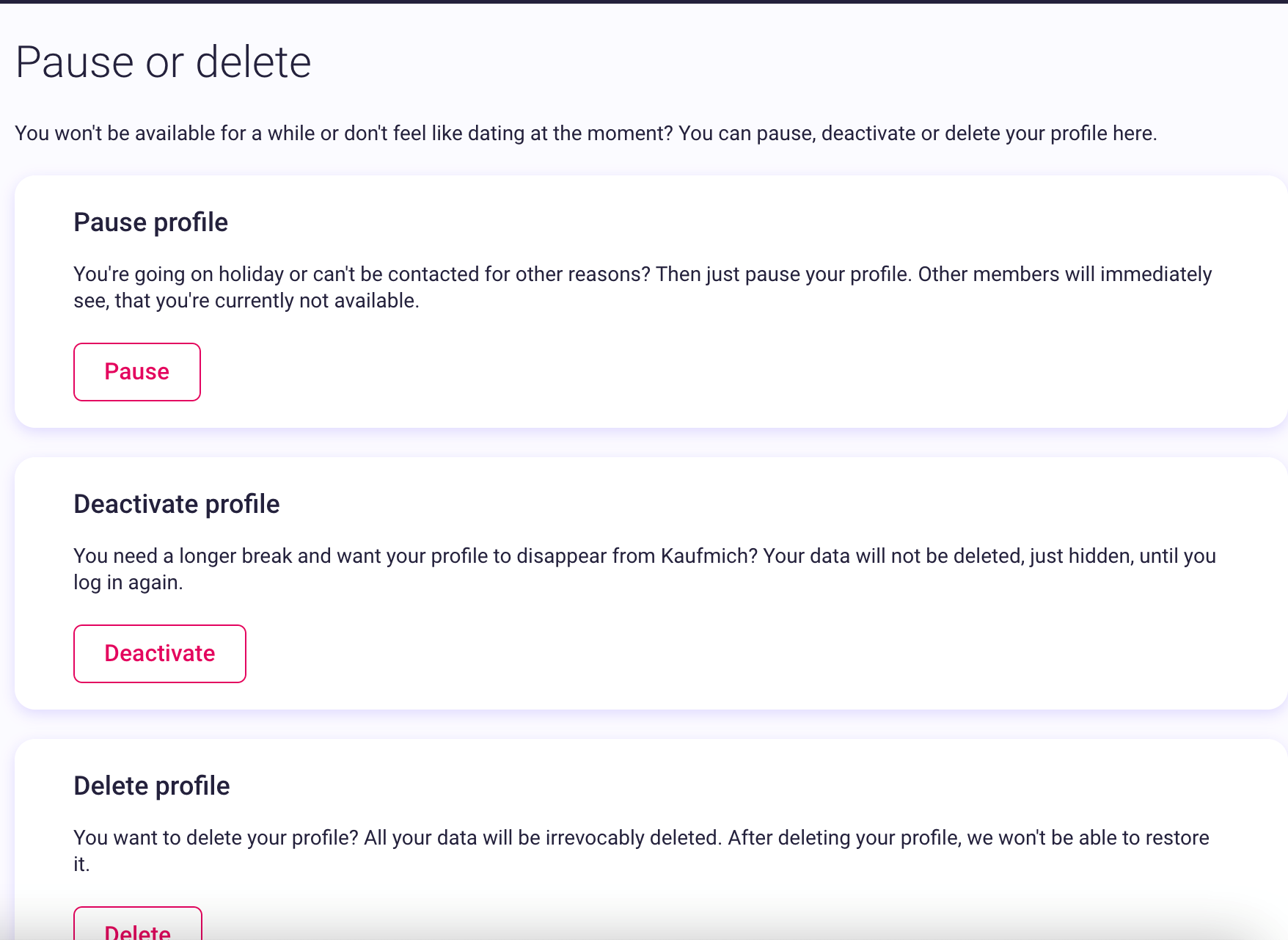 If you have difficulties, an error message appears or the confirmation link for deleting your profile is not sent to your e-mail address, you can send a request to the support team, stating your user name and e-mail address, and ask to delete your profile manually. It is not only important to mention your user name and the e-mail address stored in your profile, but also that you write to us from the  verified e-mail address.

Deletion of the profile with existing Plus membership

If you still have a paid and a not yet cancelled plus membership, we ask for your understanding that we have to ask you some questions in order to cancel it in your name. Among other things, it is important that you confirm to us that you wish to waive the remaining term of the membership, as there is no possibility of a transfer to another profile.

Deletion of a profile with an inactive e-mail address

If you want to delete your profile, but the corresponding e-mail address no longer exists, you still have the option to log in to this profile and then update your e-mail address in the settings under e-mail & password. After deleting your profile under delete profile, you will automatically receive the confirmation link to the updated email address to complete the deletion. If you encounter any difficulties, please contact our support and include your username and email address in your request.

Can kaufmich.com restore my deleted profile?

Profiles deleted by the system, whether by the member himself or by kaufmich.com, cannot be restored.